Ann here.
Yesterday, Richard Byers and I went to Something Wicked This Way Con, a very small horror con that is new to the area. Lloyd Kaufman (Mr. Troma) was there to promote his new film, "Poultrygeist:Night of the Chicken Dead."
Lloyd has only good things to say about his experience as NECRONOMICON 2005's guest of honor. Just thought you'd like to know.
Anyway, here is a pic of me and Lloyd.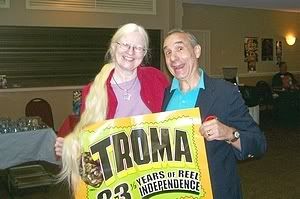 If you are interested in seeing a letter I got because I am on the Troma mailing list, in which Lloyd asks for fans help getting his new movie seen, send me a message and I'll foward it to you. I've already sent it to people on the Stone Hill mailing list but not everyone here is on that list.
When Lloyd was guest of honor for NECRONOMICON, he promoted us on his site. Now, maybe some of us can help him out a little by promoting "Poultrygeist."
Okay, I'm off now.